Ronald McDonald House Charity
Exo was able to cut down on manual labour and paperwork with automation and EDI, allowing all 13-chapter houses within RMHC to have stable and efficient communication.
Ronald McDonald House Charities (RMHC) is a worldwide recognised charity that offers houses, family rooms, family retreats and learning programs for families of seriously ill children who need hospital care away from their homes. RMHC currently has 13 house chapters across Australia that support these families in need with facilities and thoughtful initiatives.
As their mission is to create, find and support programs to ensure children are with their families during hospitalization, we felt obliged to make their work as simple and as easy as possible.
The problem
Although Ronald McDonald House Charity is one institution, all houses run their fundraising support programs individually. All chapter houses are responsible for maintaining their own sets of accounts. This involved keeping track of financials on a national level, manually. As the charity was growing there was an increasing concern regarding the efficiency and precision of their work. The process started to become messy, complicated and very time-consuming. Since 2008 RHMC has been using MYOB premier which, for this type and size of the company, became restricting. RMHC felt a national headache was impending.
Solution
Kilimanjaro's approach was to ensure the global charity was able to work smarter with improved efficiencies due to better financial management and reporting. Well implemented ERP software was a solution to all accounting and reporting problems of the growing Charity. MYOB Exo has been set up to provide a central information system and technology environment with individual databases for each of the 13-chapter houses. All reports have been standardized and the National Office is finally receiving financial information on time. Exo has given RMHC efficiency and consistency so that all 13-chapter houses have stable communication by cutting out all of the unwanted manual labour and paperwork.
"Kilimanjaro did an excellent job," Adam says. "Their team is very easy to work with, and they have great project management skills. Their service desk is another terrific partnership benefit."
We are proud to have made a contribution to the Ronald McDonald House Charities on a national level through financial business information that Exo provided them.
Free resources to help you further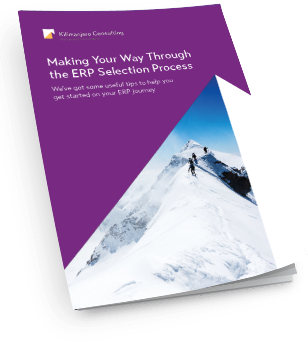 If you are ready to start your Business Management System journey, choose Kilimanjaro Consulting as your trusted implementation partner. If you don't know where to start, download our free E-Book that will take you through everything you need to consider and what to be wary of during this process.
Kilimanjaro Consulting is the largest implementer of MYOB's Business Management Software across Australia and New Zealand. We take the time to understand your business and only recommend the products that can meet your needs. To start a conversation about how MYOB Exo can improve efficiency in your organisation, email sales@kilimanjaro-consulting.com, or call 1300 857 464 (AU) or 0800 436 774 (NZ).