Scope Home Access
Scope Home Access continue to improve efficiency with a Dataline integration, following the trusted advice of Kilimanjaro Consulting.
Burdened with significant manual processes, Scope Home Access required a solution that helped automate their Accounts Payable (AP) process and improve workplace efficiency. Integrating Dataline into their MYOB Exo system provided the boost they needed to streamline their operations and modernise their AP.
Who are Scope Home Access?
Scope Home Access is a not-for-profit business providing assessments and designs for home modifications, renovations, and home-and-yard maintenance. They specifically work with the elderly and people with disabilities. The work of Scope Home Access helps their customers to maintain their lifestyles in their own homes.
What catalysed the switch to MYOB Exo and Dataline?
Scope Home Access has a complex accounts payable system, with invoices being attached to specific individual projects. The process required significant input from their team, with each invoice manually assigned to a supplier and the pre-approved budget for each project. Their accounts team had to print out invoices and then manually match them with the approved projects. This slowed down other functions of the business and was getting in the way of helping their customers.
As their trusted advisors, Kilimanjaro Consulting recommended Dataline as an integrated solution that could improve their efficiency, accuracy, and save valuable time.
Scope Home Access' Trusted Implementation partner
Kilimanjaro Consulting is ANZ's largest, most experienced, and most skilled team. When Scope Home Access' decided to implement MYOB Exo, they chose Kilimanjaro Consulting as their partner of choice. We worked to understand Scope Home Access" workflows and customise the software to meet their specific needs. We follow a structured implementation methodology, and combined with the skills, knowledge and support of our team; we are able to guide you through the implementation process. At Kilimanjaro Consulting, we pride ourselves on being technology Sherpas, focused on building long-term relationships with clients and maintaining that partnership as their business grows. We take pride in Scope Home Access' success and look forward to our continued partnership.
What changes followed the decision?
The integration of Dataline within their MYOB Exo system dramatically improved their workflows and productivity. Scope Home Access achieved this efficiency boost by taking advantage of the automations within the Dataline add-on. Approvals are now automatically routed to team members in any location, with a digital signature approval process, audit control, and reference data including job and project number. Dataline helps to archive their invoices, allowing the team to spend more time on more important tasks, rather than laborious manual tasks– all while their MYOB Exo system is kept up to date through the integration.
How are they now?
With help from Kilimanjaro Consulting, Scope Home Access is now in a better position to focus on more important areas of their organisation. They save 4-5 hours a week by no longer having to manually print and assign invoices to individual projects. The time spent processing their accounts payable has been reduced by more than 50%, with all of their information stored in a centralised system that can be accessed from any device at any time.
By continuing to use MYOB Exo and integrating Dataline, Scope Home Access has modernised their accounts payable system, eliminated redundant tasks and operations, and allowed the team to focus on the growing success of the business.
How do I achieve a successful MYOB Exo implementation?
A successful MYOB Exo Implementation depends on 3 critical risk:
Software Risk
Implementer risk
Self-Inflicted Risk
You can reduce your risk by selecting the right implementation partner. Although there are many different partners to choose from, you need the one that will work with you every step of the way. Managing risk is an important part of an implementation; selecting a low-risk partner is critical to a lifetime of success with your Business Management system.
Kilimanjaro Consulting ticks all the boxes when it comes to choosing the right partner:
Kilimanjaro Consulting is the largest and most experienced implementer of MYOB's Enterprise-level business management, accounting, payroll, and workforce management solutions: MYOB Advanced and MYOB Exo. We are experienced, low-risk implementers, helping organisations improve efficiency in their businesses through the use of clever, innovative, and proven technology.
Free resources to help you further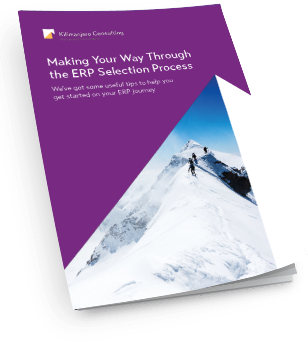 If you are ready to start your Business Management System journey, choose Kilimanjaro Consulting as your trusted implementation partner. If you don't know where to start, download our free E-Book that will take you through everything you need to consider and what to be wary of during this process.
Kilimanjaro Consulting is the largest implementer of MYOB's Business Management Software across Australia and New Zealand. We take the time to understand your business and only recommend the products that can meet your needs. To start a conversation about how MYOB Exo can improve efficiency in your organisation, email sales@kilimanjaro-consulting.com, or call 1300 857 464 (AU) or 0800 436 774 (NZ).
---