Sunshine Coast Health Institute
A healthy charity and a healthy business thanks to MYOB Advanced
Sunshine Coast Health Institute provides education and research facilities for health professionals on the Sunshine Coast of Queensland. They needed a robust accounting and reporting platform to manage their assets and partners. MYOB Advanced ticked all the boxes as an Australasian developed cloud-based solution.
Who are Sunshine Coast Health Institute?
The Sunshine Coast Health Institute (SCHI) is an education, research, and training facility. It is a joint venture between the Sunshine Coast Hospital and Health Service, the University of the Sunshine Coast, TAFE Queensland, and Griffith University. SCHI aims to provide a range of educational tools and training to develop and improve the skills of doctors, nurses, allied health workers, health professionals, and vocational students.
What catalysed the switch to MYOB Advanced?
SCHI needed to be able to apportion costs to each of their partners and provide clean, transparent, and auditable financial records. The partners all needed to be easily able to access this information. Their system also needed to be able to meet Queensland Government regulations and align their chart of accounts with the state health department.
What changes followed the decision?
As one of the few cloud-based ERP systems that meet Australian sovereignty laws, MYOB Advanced was a standout option for SCHI. Being an Australian based company, MYOB and its partners are also able to offer local support. Browser access made it easy and seamless for SCHI and their partners to access data.
How are they now?
With a streamlined financial solution, the organisation is able to ensure that the joint venture continues to be sustainable and run effectively into the future. SCHI can apportion costs to different cost centres for each partner, so that they have direct visibility into their contribution. The transparency into all costs removes any reason to mistrust SCHI. Any auditing done by Queensland Health is also simple and easy, and MYOB Advanced can handle any difficult reporting requirements. Adopting a cloud-based solution also means that they have avoided infrastructure costs and responsibilities, which frees up their resources for research and education.
How do I achieve a successful MYOB Advanced implementation?
A successful MYOB Advanced Implementation depends on 3 critical risk:
Software Risk
Implementer risk
Self-Inflicted Risk
You can reduce your risk by selecting the right implementation partner. Although there are many different partners to choose from, you need the one that will work with you every step of the way. Managing risk is an important part of an implementation; selecting a low-risk partner is critical to a lifetime of success with your Business Management system.
Kilimanjaro Consulting ticks all the boxes when it comes to choosing the right partner:
Kilimanjaro Consulting is the largest and most experienced implementer of MYOB's Enterprise-level business management, accounting, payroll, and workforce management solutions: MYOB Advanced and MYOB Exo. We are experienced, low-risk implementers, helping organisations improve efficiency in their businesses through the use of clever, innovative, and proven technology.
Free resources to help you further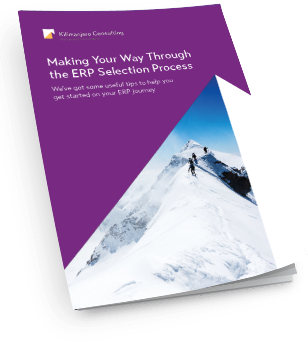 If you are ready to start your Business Management System journey, choose Kilimanjaro Consulting as your trusted implementation partner. If you don't know where to start, download our free E-Book that will take you through everything you need to consider and what to be wary of during this process.
Kilimanjaro Consulting is the largest implementer of MYOB's Business Management Software across Australia and New Zealand. We take the time to understand your business and only recommend the products that can meet your needs. To start a conversation about how MYOB Advanced can improve efficiency in your organisation, email sales@kilimanjaro-consulting.com, or call 1300 857 464 (AU) or 0800 436 774 (NZ).