Woolcock Group
The complex Woolcock Group saw significant improvement thanks to the reporting capabilities of MYOB Advanced
The Woolcock Group is a large organisation with entities across numerous industries. They needed a way to view the data of the whole group from one place. MYOB Advanced provided the single source of truth that they required.
Who are the Woolcock Group?
Founded in 1978, the Woolcock Group have grown to employ over 70 staff across a diverse number of businesses. The Woolcock group has become quite complex, from WineWorks Australia to Woolcock Construction and several other commercial property management entities.
What catalysed the switch to MYOB Advanced?
Their current system, MYOB Premier, lacked some of the more powerful functions in ERP systems. The Woolcock Group were limited by their reporting capabilities. They struggled to get the best picture of their data across or within entities. Payroll reporting could not be separated into pay categories. As a result, interstate payroll tax and WorkCover payments were difficult to calculate and reconcile. However, the Woolcock Group knew that MYOB makes software for more than just small companies. They chose MYOB Advanced as their MYOB Enterprise software for the future.
What changes followed the decision?
Due to operating across several sites, the Woolcock Group needed a solution allowing them to work remotely. As a cloud-based platform, MYOB Advanced gave them this flexibility and the power they were missing from their old system. Since the implementation, the team has streamlined several processes and saved significant time. MYOB Advanced Construction is built specifically to improve efficiency in the construction industry. It gives you complete visibility over your operations, from costing to time management, compliance, and more.
How are they now?
The Woolcock Group have embraced MYOB Advanced and the extra reporting capability it allows. Their profit and loss reports compare data against subaccounts and eliminate the need to export data to Excel. They enjoy the way that they can build reports and save customised versions across all users. They feel that they have implemented a long-term solution. MYOB Advanced meets their needs now and gives the Woolcock Group room to grow in the future.
How do I achieve a successful MYOB Advanced implementation?
A successful MYOB Advanced Implementation depends on 3 critical risk:
Software Risk
Implementer risk
Self-Inflicted Risk
You can reduce your risk by selecting the right implementation partner. Although there are many different partners to choose from, you need the one that will work with you every step of the way. Managing risk is an important part of an implementation; selecting a low-risk partner is critical to a lifetime of success with your Business Management system.
Kilimanjaro Consulting ticks all the boxes when it comes to choosing the right partner:
Kilimanjaro Consulting is the largest and most experienced implementer of MYOB's Enterprise-level business management, accounting, payroll, and workforce management solutions: MYOB Advanced and MYOB Exo. We are experienced, low-risk implementers, helping organisations improve efficiency in their businesses through the use of clever, innovative, and proven technology.
Free resources to help you further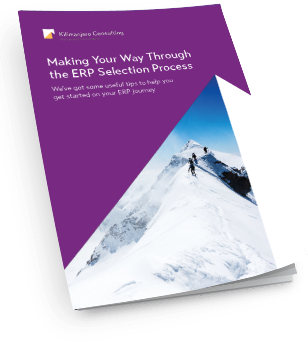 If you are ready to start your Business Management System journey, choose Kilimanjaro Consulting as your trusted implementation partner. If you don't know where to start, download our free E-Book that will take you through everything you need to consider and what to be wary of during this process.
Kilimanjaro Consulting is the largest implementer of MYOB's Business Management Software across Australia and New Zealand. We take the time to understand your business and only recommend the products that can meet your needs. To start a conversation about how MYOB Advanced can improve efficiency in your organisation, email sales@kilimanjaro-consulting.com or call 1300 857 464 (AU) or 0800 436 774 (NZ).