Improved Deposit Management in MYOB Exo
MYOB Exo Tips and Tricks #1
Deposits are a key step in ensuring you get paid on time and in full. They also help to bolster your cash flow and remove some of the risks of not getting paid. Until recently, managing deposits in your MYOB Exo Business system was difficult and a cause of frustration. See how the improved deposit management functionality provides greater flexibility, usability, and accuracy when managing deposit payments.
How does added Deposit management functionality in MYOB Exo assist you
Allocating deposits to multiple invoices
Previously, when taking one large deposit from a client and assigning it to multiple invoices, the full deposit amount would be taken out of the General Ledger (GL), resulting in an imbalance. MYOB Exo supports the part-allocation of deposits to various invoices. This means that the deposit amount will always be correct in the GL even if it is partially allocated.
Moving deposits when changing Sales Orders
When you change the debtor account associated with a Sales Order, you may want the deposit to stay associated with that particular order. Previously, the deposit would always remain tagged to the debtor account and would not remain on the sales order. Thanks to the improved deposit management functionality, you can choose what happens to the deposit on a Sales Order when the debtor is changed. The default setting is to always keep deposits with the debtor, but you can change this default in settings.
Posting deposits and deposit allocations
In previous versions, deposits were only posted to the GL when the Receipts option was ticked on the Post Ledgers to GL window. This is not always desirable, especially if Banking Batches are to be used. In MYOB Exo Business, when using Banking Batches, you can choose whether to post deposits to the GL even if the receipts option is not ticked. Deposits are no longer consolidated to a single transaction if included in a banking batch. This makes auditing and reconciling deposits to the GL much easier and more transparent.

Deposits are no longer consolidated to a single transaction if included in a banking batch. This makes auditing and reconciling deposits to the GL much easier, and more transparent.
Un-Allocating and reversing debtor allocations
In previous versions of MYOB Exo, if an allocated deposit was unallocated from one invoice and reallocated to another, no GL transactions were created. This made tracking the movement of the deposit through your accounts more difficult and made errors in your GL more likely. By automatically creating these extra transactions in the GL, MYOB Exo Business gives better visibility over the movement of these deposits, and how it affects your accounts.
When allocating a posted unallocated deposit, or un-allocating a posted deposit and then posting to the GL, the deposit will be posted to both the 'Debtor Control – credit', and 'Deposits Received – credit' accounts.
When allocating a posted deposit and then reallocating that deposit before posting, then no movement will occur.
You can also reverse the allocation without deleting the transaction. The system automatically creates a reversal transaction, debiting Debtors Control and crediting Deposits Received.
Update to ledger reconciliation
In MYOB Exo Business you can see unallocated deposits on the Ledger Reconciliation screen. Previously, these amounts would be hidden in the more general Variance amount. This additional visibility helps with error management and keeping your accounts in balance. MYOB Exo provides your organisation with more functionality around reconciliation.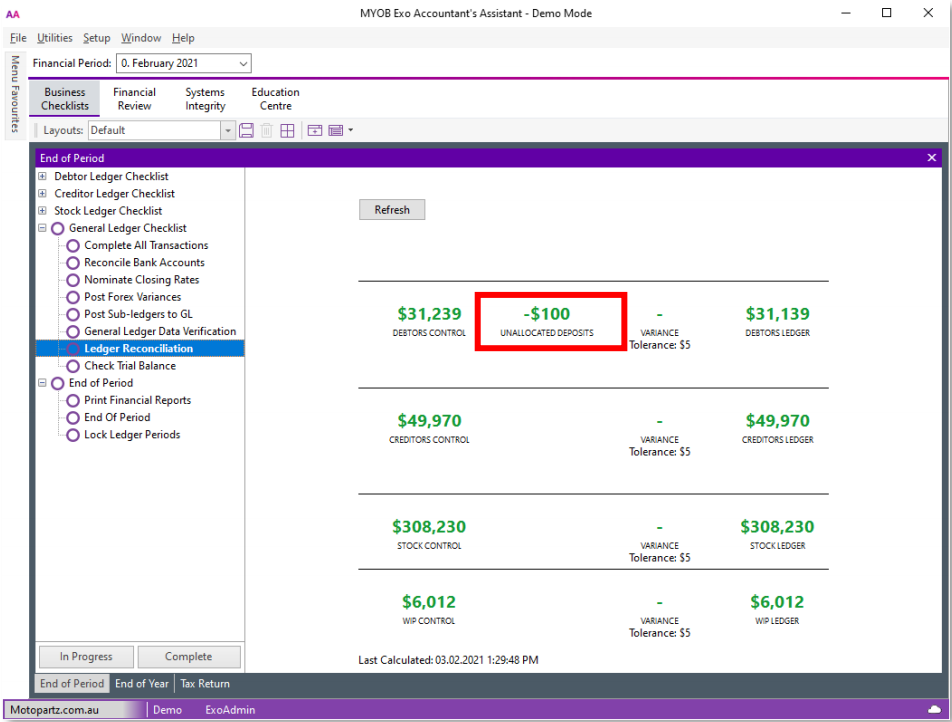 Improvements to deposit usability
Deposit totals are displayed in the footer of the Sales Order window. This is useful to keep you updated on your orders' deposit status giving you increased transparency over each order. Within MYOB Exo, you can set up prompts on this screen, giving you more control over when prompted for each Sales Order.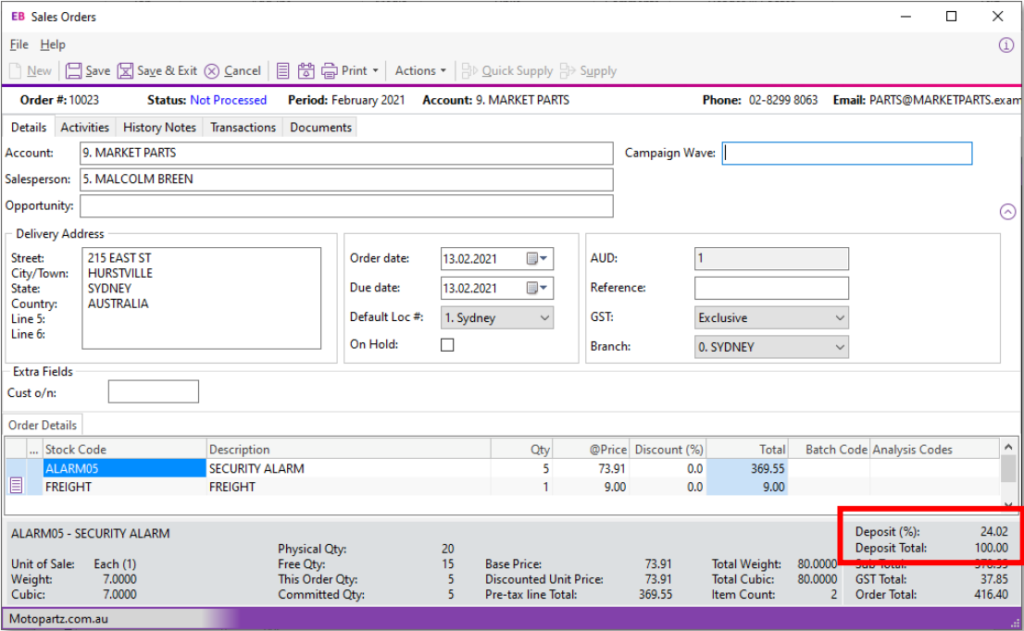 In addition to the existing prompts "Always prompt when saving" or "Never prompt", you can now select "Only Prompt when Saving a New Order" or "Only prompt when there is no deposit".
Interested in other ways to optimise MYOB Exo?
Check out our handy MYOB Exo Tips and Tricks blogs here:
Improved Deposit Management in MYOB Exo
Are you using the latest version of MYOB Exo?
MYOB Exo has a long and rich history, from its early days as ExoNet to the latest releases. Each version adds new features and functions to your already robust system. The newest update to the software will always give you benefits over the older versions. Added functionality may be as simple as an improved workflow, a new widget, a tidier report, or more complex functionality like Bank Feeds. Access to these features is included in your Annual Licence Fee (ALF), so you are missing out on added value by not keeping your system current. Regularly updating your software ensures your team maintains a reliable, powerful platform to suit your organisation for years to come.
Using the latest version of MYOB Exo gives you access to these new features, as well as many others. If you would like to upgrade your MYOB Exo software, then contact our team to discuss your options. Send an email to our friendly team at samacs@kilimanjaro-consulting.com, or call 1300 857 464 (AU) or 0800 436 774 (NZ).