Harnessing the Power of Job Costing
MYOB Exo Tips and Tricks #3
MYOB Exo Job Costing is an additional integrated module of your MYOB Exo Business system. The MYOB Job Costing module helps you manage the profitability of your jobs and projects in real-time by providing direct visibility of all your inputs, processes, and costs. With the integration into MYOB Exo Business, your General Ledger is also kept up to date with information from every project, removing the need for manual data re-entry, and making your team more efficient.
As with any part of MYOB Exo, the Job Costing module can be customised to suit your organisation's needs. MYOB Exo Business Job Costing module receives regular updates to ensure your organisation can take advantage of added functionality to improve efficiency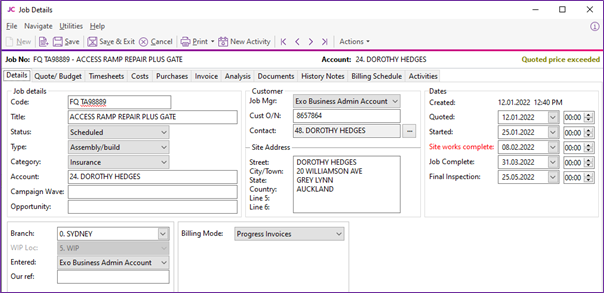 Added custom functionality for your organisation
As trusted implementation partners and knowledgeable MYOB Exo implementers, Kilimanjaro Consulting has developed custom functionality that goes above and beyond the standard Job Costing features.
Audit tracking on key job fields
Audit tracking is one such additional enhancement that can be deployed to improve the visibility of changes over the course of a job. This customisation is invaluable for Construction or Service & Maintenance businesses but can also be deployed for Professional Services companies. This provides the Project Manager (or whoever you choose to access the information) answers to some common questions when reviewing a project, including:
"Who closed that job, and when was it closed?"
"When did site works commence"
"When did the retention period start?"
"When was the due date for that service moved?"
Changes to nominated Job fields can be tracked and reported on via a configured grid widget, meaning that you will never have to wonder again who made what change in a job header field or flag. Custom reports can also be generated looking at the changes across multiple jobs to assist Project Managers and ensure you have a complete view of your organisation.

Automatic Job Creation
Another available customisation has focused on the automatic creation of jobs into your system based on a Serviceable Units schedule.
Instead of having to create a schedule and then create the jobs, MYOB Exo Job Costing can be customised to automatically create the jobs based on the schedule. This automation saves your team time by removing the need to manually re-enter the same data and lowers the error rate that comes with direct manual intervention.
Graphical and User Interface Enhancements to MYOB Exo Job Costing
The latest User Interface improvements are now available in MYOB Exo Job Costing. The new look and feel of high resolution and scaling DPI, along with other UI improvements provide clarity for users. These cosmetic changes bring the Job Costing module in line with the aesthetic appeal of the rest of MYOB Exo, ensuring your team have crisp and clear visibility of your Job's data.
Fast and simple movement through screens
Recent Actions and Favourite Reports sections have been added on the left-hand side of the main Job Costing screen. This makes it simple and fast to jump to your preferred work area in the module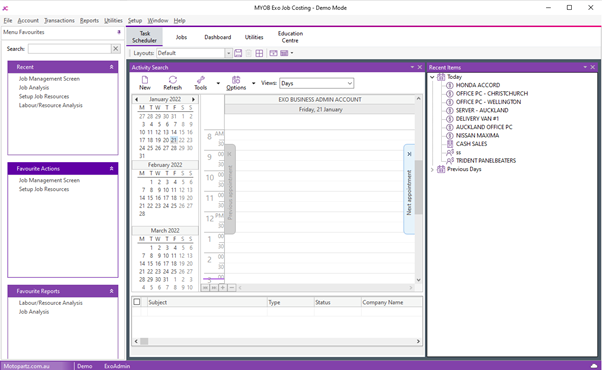 Alternate shading on Transactional fields
There is alternate shading across rows, making it easier to separate data and focus on specific lines. This is available on the main Job screen and all transactional tabs.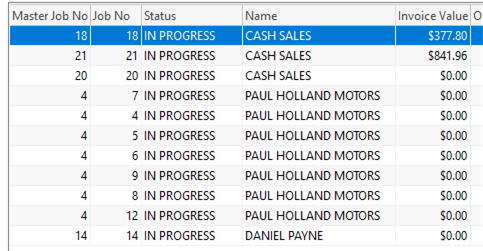 Control of right-click menu options per user profile
You can control the available options on the right-click menus of job costing tabs. This can be set based on individual user access, so your team only select the best options for their role. These selections can be customised in the MYOB Exo Configurator.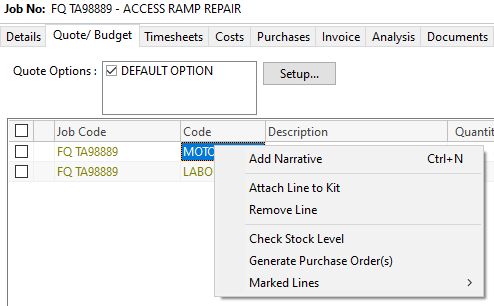 Change key field names
Also customisable within the MYOB Exo Configurator are the names of key fields. You can change the names of fields such as dates, descriptions, notes, and more. This can make the intent of the field clearer and remove any confusion within your team.
If you would also like to improve your knowledge of the MYOB Exo Configurator, explore our range of training options via our online portal.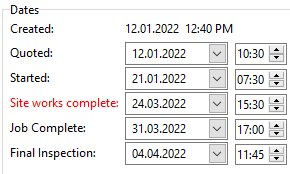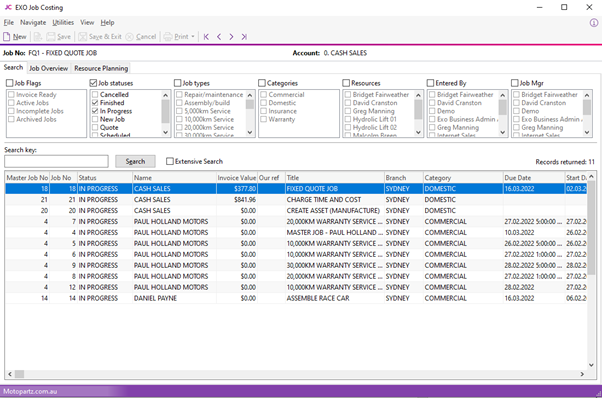 Interested in other ways to optimise MYOB Exo?
Check out our handy MYOB Exo Tips and Tricks blogs here:
Harnessing the Power of Job Costing
Are you using the latest version of MYOB Exo?
MYOB Exo has a long and rich history, from its early days as ExoNet to the latest releases. Each version adds new features and functions to your already robust system. The newest update to the software will always give you benefits over the older versions. Added functionality may be as simple as an improved workflow, a new widget, a tidier report, or more complex functionality like Bank Feeds. Access to these features is included in your Annual Licence Fee (ALF), so you are missing out on added value by not keeping your system current. Regularly updating your software ensures your team maintains a reliable, powerful platform to suit your organisation for years to come.
Using the latest version of MYOB Exo gives you access to these new features and many others. If you want to upgrade your MYOB Exo software, contact our team to discuss your options. Email our friendly team at samacs@kilimanjaro-consulting.com, or call 1300 857 464 (AU) or 0800 436 774 (NZ).