In-app Messaging and Disconnecting Users in MYOB Exo
MYOB Exo Tips and Tricks #4
With the release of MYOB Exo 2021.4, new functionality allows you to forcefully disconnect or send messages to other users in MYOB Exo.
MYOB Exo is a Business Management Solution designed for businesses with growing complexities. It is a system that requires input from a variety of teams across your organisation. In previous versions of MYOB Exo, when you had several users logged into the system, it would be difficult to communicate critical information without relying on external applications. When compounded with time-sensitive actions such as a monthly rollover, inefficient team communication can create confusion and unnecessary stress.
Updating MYOB Exo to version 2021.4 allows sending broadcast messages to users across your system. This update also provides administrators with the ability to disconnect users forcefully. Communicating effectively and clearing your system for important tasks gives you more control over MYOB Exo, reducing errors and improving efficiency.
How to send internal messages within MYOB Exo
After you log into MYOB Exo, under the File tab, find the Database Tools dropdown and then click on Message Users. Click on New, and a new window will open. Write your message in this new window and then send it out to the team.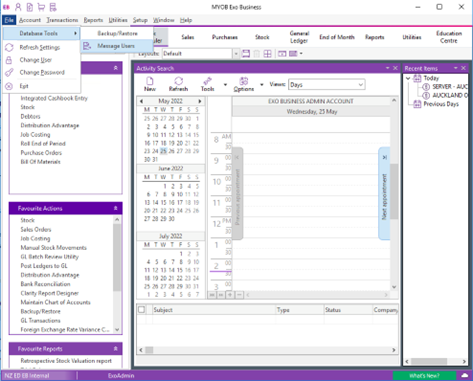 This will send a broadcast message to everyone in MYOB Exo, ensuring that your entire team is kept up to date with the latest information. The message will come through as a pop-up for all users that are currently signed into MYOB Exo. Users who are logged out when the message is sent will receive the pop-up the next time they sign in.
This functionality should not replace dedicated team communications platforms like Microsoft Teams or Slack. However, it can take the place of companywide emails, where important messages can become lost in a cluttered inbox. Ensure your team is always up to date, with instant in-app messaging in MYOB Exo.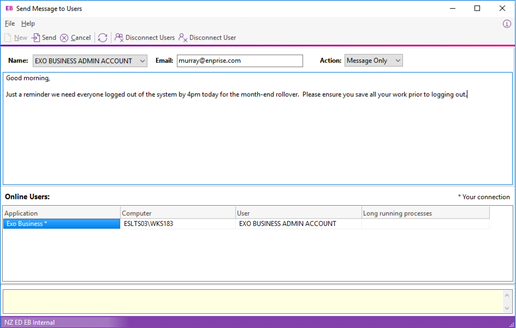 How to disconnect users in MYOB Exo
Disconnecting users in MYOB Exo requires specific permission, that can only be assigned by a system administrator. This new feature can cause disruptions if applied indiscriminately, please be judicious with these higher-level administrative responsibilities. To assign these responsibilities open the MYOB Exo Configurator, navigate to the Staff screen, and then select the user who will receive these permissions. Click the Authority tab and check the "Can disconnect users" box.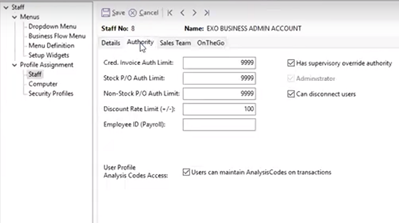 These specific users can now request and force log-outs as part of sending an in-app message.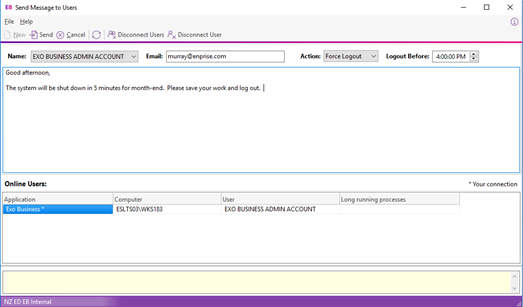 By default, when submitting a forced log-out, the system will display a one-minute warning before beginning any disconnections. If you would prefer to give your team a longer period to finish their work and sign out, then you can change this time to suit your needs.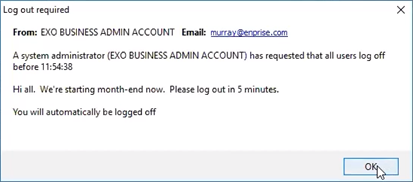 These new features give you more control over your MYOB Exo system, ensuring clear and timely communication across your team and guaranteeing that your system can be clear and ready for actions like monthly rollovers when you need them.
Visit our training portal to learn more about MYOB Exo Configurator and how you can become more confident in making minor changes to your system.
Interested in other ways to optimise MYOB Exo?
Check out our handy MYOB Exo Tips and Tricks blogs here:
In-app Messaging and Disconnecting Users in MYOB Exo
Are you using the latest version of MYOB Exo?
MYOB Exo has a long and rich history, from its early days as ExoNet to the latest releases. Each version adds new features and functions to your already robust system. The newest update to the software will always give you benefits over the older versions. Added functionality may be as simple as an improved workflow, a new widget, a tidier report, or more complex functionality like Bank Feeds. Access to these features is included in your Annual Licence Fee (ALF), so you are missing out on added value by not keeping your system current. Regularly updating your software ensures your team maintains a reliable, powerful platform to suit your organisation for years to come.
Using the latest version of MYOB Exo gives you access to these new features and many others. Contact our team to discuss your options if you want to upgrade your MYOB Exo software. Please email our friendly team at samacs@kilimanjaro-consulting.com or call 1300 857 464 (AU) or 0800 436 774 (NZ).