Capability Resources
The long-term journey of Capability Resources continues to deliver benefits with MYOB Exo
Capability Resources is a long-term MYOB Exo client of Kilimanjaro Consulting. They continue to see an improvement in their efficiency with their system as they move into the cloud with ExoHosted and streamline their administrative paperwork with Dataline.
Who are Capability Resources?
Capability Resources provide safety and compliance products and services, to protect the workers of different industries across Australia. They focus on the three critical areas of safety: competent people, safe practices, and equipment that is fit for purpose. They continually seek to improve their business processes in the same way they identify and meet gaps in their market.
What catalysed the introduction of ExoHosted?
An opportune moment to deploy ExoHosted arose when Capability Resources' on-premise server reached the end of its life. Instead of re-investing in a new server, Capability Resources' trusted MYOB Partner – Kilimanjaro Consulting – recommended transitioning to a hosted cloud environment with ExoHosted. ExoHosted manages and maintains their database in the cloud, saving the costs of maintaining and operating an on-premise server, while giving them cloud-based access to MYOB Exo via any web browser.
Capability Resources' Trusted Implementation partner
Kilimanjaro Consulting is ANZ's largest, most experienced, and most skilled team. When Capability Resources decided to implement ExoHosted, they chose Kilimanjaro Consulting as their partner of choice. We worked to understand Capability Resources workflows and customise the software to meet their specific needs. We follow a structured implementation methodology, and combined with the skills, knowledge and support of our team; we are able to guide you through the implementation process. At Kilimanjaro Consulting, we pride ourselves on being technology Sherpas, focused on building long-term relationships with clients and maintaining that partnership as their business grows. We take pride in Capability Resources' success and look forward to our continued partnership.
What benefits did Dataline bring their company?
The team at Capability Resources were entering in their invoices manually. This tied up their administrative staff, keeping them from more important projects. Tax compliance meant that their paper records needed to be kept and stored for several years. As the number of cartons full of paper grew it became increasingly difficult to retrieve their old information. Dataline is an add-on solution to MYOB Exo that automated their Accounts Payable, by scanning invoices and extracting the data into their system for easy payments.
What changes followed the decision?
Capability Resources are seeing benefits in efficiency from both Dataline and ExoHosted, furthering the effectiveness of MYOB Exo and supporting their business into the future. ExoHosted gives them the flexibility to work from home and still easily access their database. Dataline streamlines their administrative Accounts Payable processes and maintains a digital record of their invoices for easy tax compliance.
How are they now?
Moving their database onto a hosted environment not only saved the cost of a new on-premise server but brought many other benefits. Data recovery has been vastly improved, especially in the case of natural disasters. Backups and archiving are done offsite and stored securely, following Dataline's digitisation of their old physical processes. Overall the system brings more accountability, traceability, and flexibility which Capability Resources have greatly benefited from.
This implementation was completed before Enprise Solutions and Kilimanjaro Consulting merged. The original implementation team was, at that time, a part of Enprise Solutions. After the merger, Kilimanjaro Consulting has become the largest and most experienced implementer of MYOB's Enterprise Solutions across Australia and New Zealand. The Kilimanjaro Consulting team continues to support Capabilities Resources to improve efficiency with the clever use of innovative and proven technology.
How do I achieve a successful implementation?
A successful implementation depends on managing 3 critical risks:
Software Risk
Implementer risk
Self-Inflicted Risk
You can reduce your risk by selecting the right implementation partner. Although there are many different partners to choose from, you need the one that will work with you every step of the way. Managing risk is an important part of an implementation, selecting a low-risk partner is critical to a lifetime of success with your Business Management system.
Kilimanjaro Consulting ticks all the boxes when it comes to choosing the right partner:
Kilimanjaro Consulting is the largest and most experienced implementer of MYOB's Enterprise-level business management, accounting, payroll, and workforce management solutions: MYOB Advanced and MYOB Exo. We are experienced, low-risk implementers, helping organisations improve efficiency in their businesses through the use of clever, innovative, and proven technology.
Free resources to help you further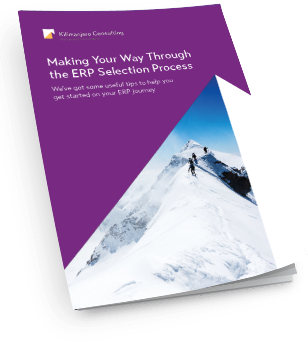 If you are ready to start your Business Management System journey, choose Kilimanjaro Consulting as your trusted implementation partner. If you don't know where to start, download our free E-Book that will take you through everything you need to consider and what to be wary of during this process.
Kilimanjaro Consulting is the largest implementer of MYOB's Business Management Software across Australia and New Zealand. We take the time to understand your business and only recommend the products that can meet your needs. To start a conversation about how ExoHosted can improve efficiency in your organisation, email sales@kilimanjaro-consulting.com, or call 1300 857 464 (AU) or 0800 436 774 (NZ).