Havelock North High School
Havelock North High School use MYOB Advanced to support their students and staff.
Havelock North High School is the first New Zealand school to implement MYOB Advanced Business. They were able to leverage the cloud-based platform and their complex sub-accounts structure to maintain efficiency while working off-campus.
Who is Havelock North High School?
Havelock North High School is a young, vibrant high school with almost 1000 students. Its mission is to give every student as many opportunities as possible. To do that, it combines progressiveness with tradition and embraces systems that can support the needs of its students. While they may not have the goals of a traditional workplace, efficient workflows are still essential to ensure success.
What catalysed the switch to MYOB Advanced Business?
The school has tried a variety of ERP software packages to oversee their operations. But the growing necessity to efficiently work off-campus meant that the school needed to explore cloud-based solutions. The school required a solution that could handle a large volume of transactions, minimise operating costs, and generate detailed reports – with smooth migration from their old system.
What changes followed the decision?
After the implementation of MYOB Advanced Business, including integration with Velixo Reports, Havelock North High School were able to extract more granular data, and generate reports across departments that help the school make better decisions. They now leverage a complex and diverse network of sub-accounts to help manage finances across the entire school. The cloud-based software reduced hardware requirements, so the school could function as close to normal as possible across the pandemic, allowing staff to be flexible in their working arrangements.
How are they now?
­­With MYOB Advanced Business, Havelock North High School is now able to continue normal operations in a more efficient and dynamic form. The solution met all their requirements and allowed their operations to continue through the COVID-19 pandemic without compromising efficiency. The school is now in a more cost-effective position, and they look forward to exploring the different possibilities that come with the cloud in the coming years.
How do I achieve a successful MYOB Advanced implementation?
A successful MYOB Advanced Implementation depends on 3 critical risk:
Software Risk
Implementer risk
Self-Inflicted Risk
You can reduce your risk by selecting the right implementation partner. Although there are many different partners to choose from, you need the one that will work with you every step of the way. Managing risk is an important part of an implementation; selecting a low-risk partner is critical to a lifetime of success with your Business Management system.
Kilimanjaro Consulting ticks all the boxes when it comes to choosing the right partner:
Kilimanjaro Consulting is the largest and most experienced implementer of MYOB's Enterprise-level business management, accounting, payroll, and workforce management solutions: MYOB Advanced and MYOB Exo. We are experienced, low-risk implementers, helping organisations improve efficiency in their businesses through the use of clever, innovative, and proven technology.
Free resources to help you further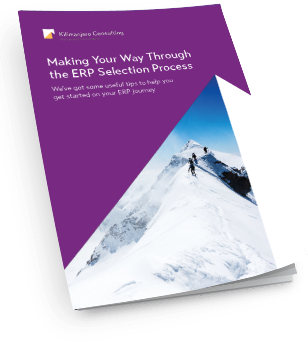 If you are ready to start your Business Management System journey, choose Kilimanjaro Consulting as your trusted implementation partner. If you don't know where to start, download our free E-Book that will take you through everything you need to consider and what to be wary of during this process.
Kilimanjaro Consulting is the largest implementer of MYOB's Business Management Software across Australia and New Zealand. We take the time to understand your business and only recommend the products that can meet your needs. To start a conversation about how MYOB Advanced can improve efficiency in your organisation, email sales@kilimanjaro-consulting.com or call 1300 857 464 (AU) or 0800 436 774 (NZ).