Residentia
Implementing MYOB Advanced is a lightbulb moment for electric appliance company Residentia
Residentia's unparalleled market growth meant its old accounting system struggled to keep up. The MYOB Advanced platform set them up for continued success in the future.
Who is Residentia?
Residentia supplies electrical appliances to prominent Australian retailers. They have carved out a strong position in the market with clients such as Bing Lee, Betta Electrical, and the Buyrite Group. Experiencing rapid growth, Resedentia needed a robust system to support its customers and staff.
What catalysed the switch to MYOB Advanced?
It was Residentia's rapid growth that overtook the capabilities of their old system. The pairing of Xero and Unleashed led to discrepancies. Both systems were delivering different figures for stock value. The finance and inventory teams wasted time working on spreadsheets outside their system. Also, emailing these spreadsheets to their third-party managed warehouse for distribution risked errors that would take weeks to detect.
What changes followed the decision?
Residentia chose the cloud-based MYOB Advanced over many competitors in the market. It was already optimised for Australian payroll and had the capacity to grow with the company in the future. MYOB Advanced integrated with various add-on products to further boost Residentia's efficiency. They use NETSTOCK for inventory optimisation and B2B Gateway to communicate with their warehouse.
How are they now?
Connecting Residentia to their customers via EDI has automated statement generation and invoicing. NETSTOCK forecasts their stock requirements and helps with better stock management. The Sales Reps save time by filing expense claims via the cloud. Future growth for Residentia will keep them ahead of the competition. They are expanding into New Zealand and the UK and establishing a sourcing office in Asia. They are well positioned to make these expansions thanks to MYOB Advanced's ability to handle many businesses and branches.
How do I achieve a successful MYOB Advanced implementation?
A successful MYOB Advanced Implementation depends on 3 critical risk:
Software Risk
Implementer risk
Self-Inflicted Risk
You can reduce your risk by selecting the right implementation partner. Although there are many different partners to choose from, you need the one that will work with you every step of the way. Managing risk is an important part of an implementation; selecting a low-risk partner is critical to a lifetime of success with your Business Management system.
Kilimanjaro Consulting ticks all the boxes when it comes to choosing the right partner:
Kilimanjaro Consulting is the largest and most experienced implementer of MYOB's Enterprise-level business management, accounting, payroll, and workforce management solutions: MYOB Advanced and MYOB Exo. We are experienced, low-risk implementers, helping organisations improve efficiency in their businesses through the use of clever, innovative, and proven technology.
Free resources to help you further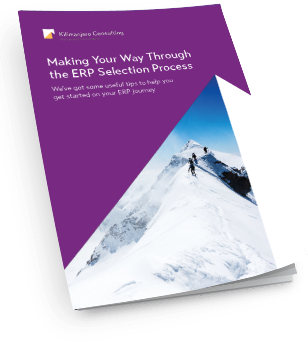 If you are ready to start your Business Management System journey, choose Kilimanjaro Consulting as your trusted implementation partner. If you don't know where to start, download our free E-Book that will take you through everything you need to consider and what to be wary of during this process.
Kilimanjaro Consulting is the largest implementer of MYOB's Business Management Software across Australia and New Zealand. We take the time to understand your business and only recommend the products that can meet your needs. To start a conversation about how MYOB Advanced can improve efficiency in your organisation, email sales@kilimanjaro-consulting.com or call 1300 857 464 (AU) or 0800 436 774 (NZ).