SEA Electric
MYOB Advanced's integrated systems lead to further global expansion
Global company SEA Electric is seeing rapid growth in the electric commercial vehicle sector. MYOB Advanced has facilitated that growth by bringing all its data together under one flexible and scalable platform.
Who is SEA Electric?
SEA Electric has the vision to switch almost every vehicle in Australia to an energy-efficient, electric model. They are well on their way to becoming a global presence with bases in Australia, the USA, Canada, New Zealand, Thailand, Indonesia and South Africa with collectively more than one million miles of independently OEM-tested and in-service international operation. They want to make Australia the world leader in electric vehicle technology.
What catalysed the switch to MYOB Advanced?
SEA Electric was using two disparate systems to manage the company. Xero was used for payroll and accounting, while NetSuite was used to manage production and assembly. Excel spreadsheets filled in the gaps between the two systems. This approach led to a high error rate, and a lot of repeated data entry. Less than ideal in a fast-moving industry, SEA faced issues keeping track of inventory and product changes, due to the lack of integration in their existing systems.
What changes followed the decision?
Implementing MYOB Advanced now meant that SEA Electric was using one system that could meet all their needs. From accounting to assembly, all their data was available and updated within MYOB Advanced. They have also been able to utilise Single Touch Payroll to find increased efficiency in relatively stable departments.
How are they now?
MYOB Advanced handles the complexity of SEA Electric's business, making processes run smoothly and minimising delays. Managing the manufacturing work centres through to completion is critical to success. Serialised products for warranty, automated purchasing and sub-assembly are all handled through an integrated module. The capacity to manage multiple companies and branches on the same accounting platform helps the business to consolidate all their information. Future growth for the company will make use of location tracking, serialised production, multiple currencies and units of measurement and warranties modules.
How do I achieve a successful MYOB Advanced implementation?
A successful MYOB Advanced Implementation depends on 3 critical risk:
Software Risk
Implementer risk
Self-Inflicted Risk
You can reduce your risk by selecting the right implementation partner. Although there are many different partners to choose from, you need the one that will work with you every step of the way. Managing risk is an important part of an implementation; selecting a low-risk partner is critical to a lifetime of success with your Business Management system.
Kilimanjaro Consulting ticks all the boxes when it comes to choosing the right partner:
Kilimanjaro Consulting is the largest and most experienced implementer of MYOB's Enterprise-level business management, accounting, payroll, and workforce management solutions: MYOB Advanced and MYOB Exo. We are experienced, low-risk implementers, helping organisations improve efficiency in their businesses through the use of clever, innovative, and proven technology.
Free resources to help you further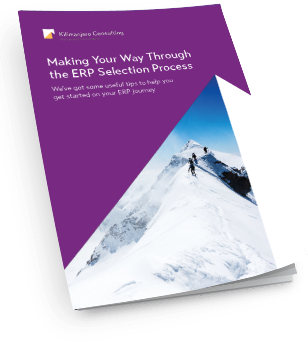 If you are ready to start your Business Management System journey, choose Kilimanjaro Consulting as your trusted implementation partner. If you don't know where to start, download our free E-Book that will take you through everything you need to consider and what to be wary of during this process.
Kilimanjaro Consulting is the largest implementer of MYOB's Business Management Software across Australia and New Zealand. We take the time to understand your business and only recommend the products that can meet your needs. To start a conversation about how MYOB Advanced can improve efficiency in your organisation, email sales@kilimanjaro–consulting.com, or call 1300 857 464 (AU) or 0800 436 774 (NZ).