MTC Gas
An integrated suite of functions helped MTC Gas to succeed
MTC Gas struggled with a high volume of complex jobs and reliance on manual and time-consuming processes. Upgrading their old accounting software to MYOB Exo helped them access real-time reporting information. With this, they gained stronger reporting capabilities, all within a single integrated system.
Who is MTC Gas?
MTC Gas is Queensland's leading provider of gas-related services. From installation, repair, and maintenance, to meeting the needs of commercial and residential customers. MTC has primarily been working with larger commercial and industrial clients. But their team of 50 technical staff also provide a 24-hour, 7 days week response service.
What catalysed the switch to MYOB Exo?
MTC Gas needed a platform to help manage their jobs and labour without resorting to spreadsheets. After deciding they would need to transition from their old MYOB AccountRight system, they would implement a different program. However, MTC preferred MYOB Exo for its suite of fully integrated modules, including Finance and Job Costing, and the industry-leading reporting functions that came with it.
What changes followed the decision?
The team at MTC were able to track jobs efficiently and accurately. This streamlined their overall process. Being able to produce a P&L report on any job at any time has given them a depth of detail they did not previously have access to. This especially helps when managing their larger clients, as the work is much more complex.
How are they now?
Being able to tag costs directly to each project means they no longer miss out on making sure their invoices are raised. A single system that combines job costing, finance, and payroll means that all the information is waiting at their fingertips instead of spreading across their different locations.
How do I achieve a successful MYOB Exo implementation?
A successful MYOB Exo Implementation depends on 3 critical risk:
Software Risk
Implementer risk
Self-Inflicted Risk
You can reduce your risk by selecting the right implementation partner. Although there are many different partners to choose from, you need the one that will work with you every step of the way. Managing risk is an important part of an implementation; selecting a low-risk partner is critical to a lifetime of success with your Business Management system.
Kilimanjaro Consulting ticks all the boxes when it comes to choosing the right partner:
Kilimanjaro Consulting is the largest and most experienced implementer of MYOB's Enterprise-level business management, accounting, payroll, and workforce management solutions: MYOB Advanced and MYOB Exo. We are experienced, low-risk implementers, helping organisations improve efficiency in their businesses through the use of clever, innovative, and proven technology.
Free resources to help you further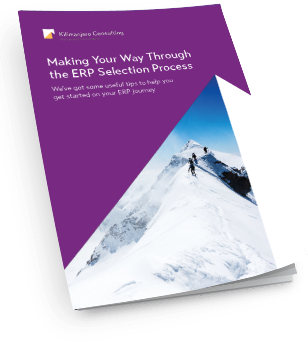 If you are ready to start your Business Management System journey, choose Kilimanjaro Consulting as your trusted implementation partner. If you don't know where to start, download our free E-Book that will take you through everything you need to consider and what to be wary of during this process.
Kilimanjaro Consulting is the largest implementer of MYOB's Business Management Software across Australia and New Zealand. We take the time to understand your business and only recommend products that can meet your needs. To start a conversation about how MYOB Business Management Software can improve efficiency in your organisation, email sales@kilimanjaro-consulting.com or call 1300 857 464 (AU) or 0800 436 774 (NZ).