MYOB Exo Business Point of Sale
Exo Point of Sale is a powerful extension of the MYOB Exo suite that ensures your entire business can run on the same system
This application assists retail companies to manage their business more effectively and more intuitively. With the ability to integrate into Eftpos, POS is a powerful extension to MYOB Exo Finance.
MYOB Exo is easily configured to provide complete point-of-sale functionality. This means you can run your entire business, from end-to-end, on the same integrated system, with complete transactional visibility.
MYOB Exo stock control capabilities translate to automatic updating of stock levels as sales are transacted, support of multiple warehouse sites, access to customer orders, delivery times and much more.
Combine all of this with MYOB Exo POS easy-to-use retail interface, along with barcode reader, cash drawer, docket printer, EFTPOS, touch screen and other retail POS hardware integration and you can create a very powerful enterprise retail solution.
For further information please read the MYOB Exo POS factsheet.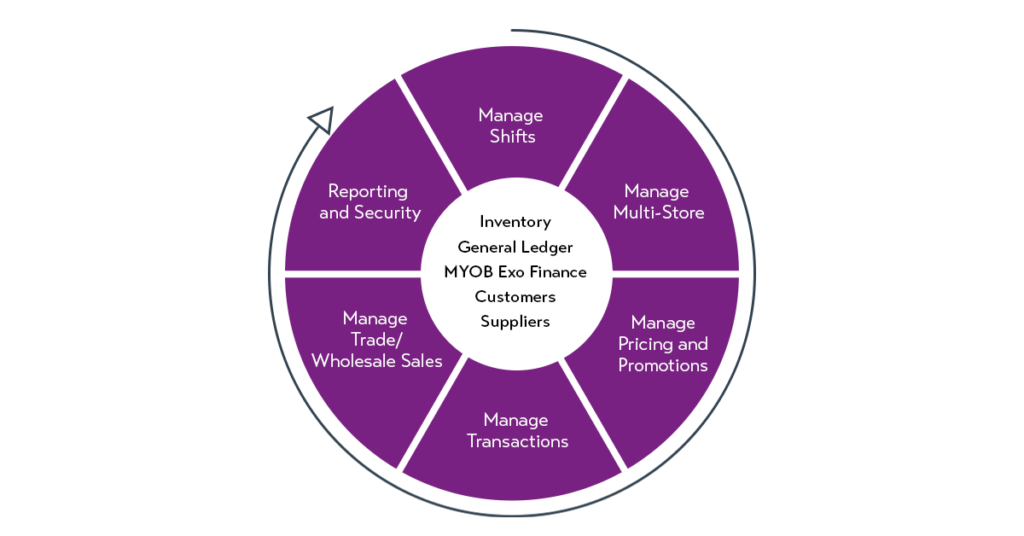 Manage Shifts
create shifts for multiple sales people
shift security and audit
supervisor override
full transaction log
end of day reports and banking
Manage Transactions
easy to use POS screen
cash sales
parking transactions
lay-by management
refunds, credits, deposits
EFTPOS integration
Manage Multi-Store
live stock enquiries across multiple stores and different locations
single debtor account across stores
stock transfer workflow
enter the sale at one store and supply from another
Manage Trade/ Wholesale Sales
convert a POS transaction to a quote, sales order or account sale
manage payment and delivery now or later
Manage Pricing and Promotions
manage promotions or storewide price changes
preload new pricing and schedule start/stop dates
manage multiple promotions
apply discounts as % or $ amounts
Reporting and Security
sales and margin analysis
audit log with event tracking
customisable menus and workflows