Keep the best; upgrade the rest – create a connected software ecosystem to manage your entire organisation
Upgrade your accounting system and keep using your best of breed add-on solutions.
If your off-the-shelf accounting software is struggling to meet your needs, then consider upgrading to a fully featured, cloud-based business management platform and maintain your existing industry add-on products. MYOB Advanced is integrated with a variety of best-of-breed add-on solutions.
Off the shelf vs. Enterprise Resource Planning software
Off-the-shelf accounting software and Enterprise Resource Planning (ERP) systems (also known as business management systems) are used for both managing financial information and facilitating business processes.
Some examples of off-the-shelf accounting packages are:
Xero
Quickbooks
Zoho
Wave
MYOB Business
MYOB Premier
There are significant differences between Business Management platforms and off-the-shelf systems.
System scope – what is it built to do?
Off-the-shelf accounting software focuses primarily on accounting functions such as bookkeeping, accounts payable, and accounts receivable. It is designed to address the specific needs of accounting departments. It is pre-configured and assumes one size fits all. On the other hand, ERP systems are designed to encompass a broader range of functionality beyond accounting. They integrate various business processes across the 6 key organisational workflows:
Accounting and Tax
Employees
Finances
Supply Chain
Customers
Projects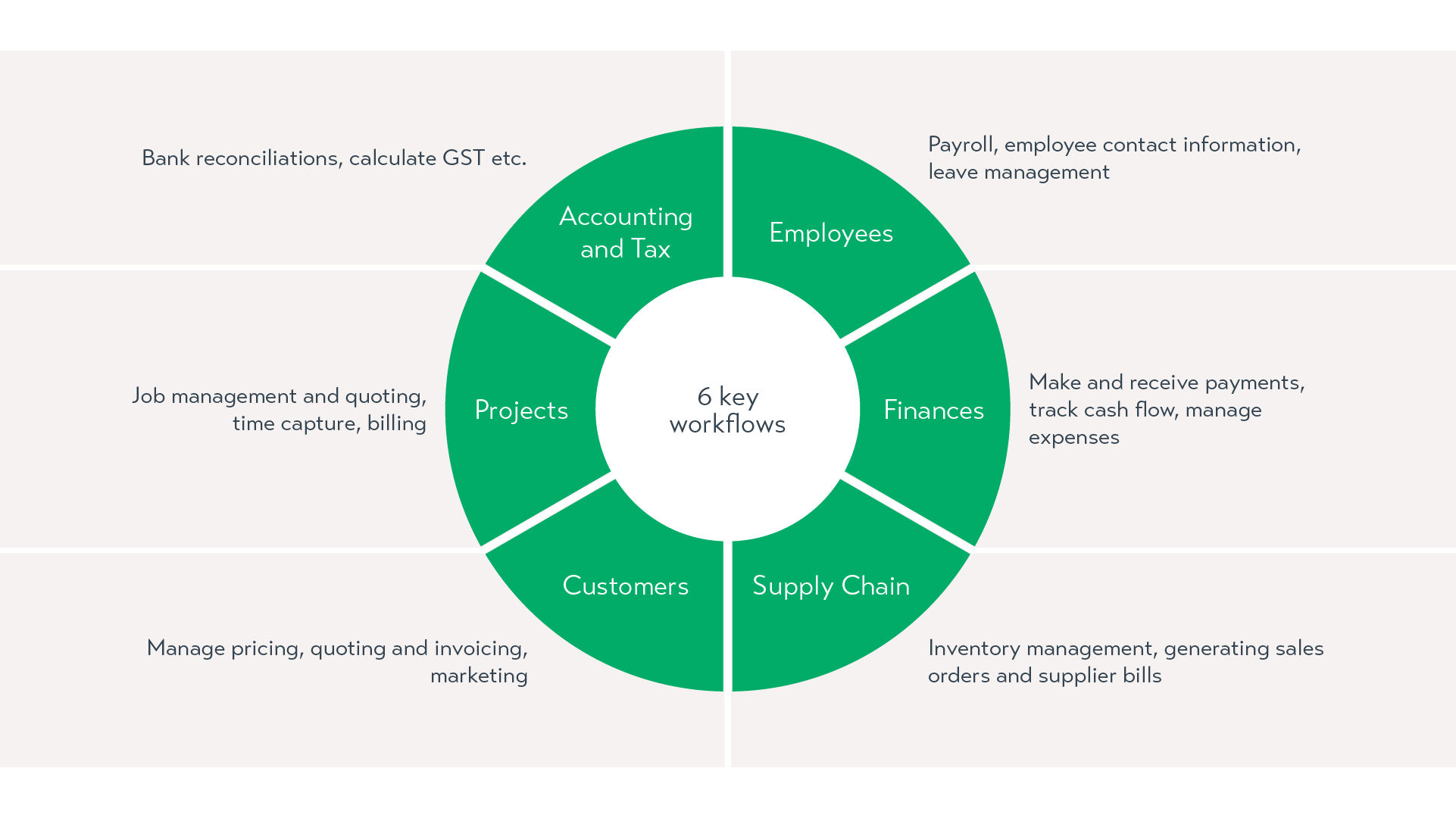 Business management systems aim to streamline and connect multiple departments across an organisation by sharing data and automating processes. They do much more in terms of scope than off-the-shelf accounting systems – even in regard to finance, accounting and tax.
Customisation and Scalability – how can the system meet your needs now and in the future?
Off-the-shelf accounting systems are typically pre-packaged and offer limited customisation options. What you see is what you get, and that is the full extent of the software's functionality. This design is perfect for small businesses that do not need custom workflows and do not have complex processes. However, once your organisations start to grow, the inability of off-the-shelf accounting packages to scale can limit your productivity. Business management solutions are highly customisable and can adapt to the specific needs of different industries, organisations, and workflows. As your organisation evolves, ERP systems can continue to be customised to meet your changing requirements.
A single source of data truth – can you build a connected business?
Off-the-shelf accounting software usually has limited integration capabilities with other systems. This leads to additional manual effort to import data from external sources or duplicate transactions and other data between systems. Business management systems (or ERP solutions) are designed to be a single source of truth for all data in your organisation. They integrate with your organisation's satellite products to meet other operational requirements. Integration brings real-time information sharing, visibility, collaboration, and seamless data flow for the entire organisation. This eliminates the need for duplicate data entry or manual data transfers and creates the opportunity to build automations across your different departments.
Why use best-of-breed systems
As your business grows and becomes more complex, it is natural to add new purpose-built solutions to your technology ecosystem. Your processes will continue to evolve, and these products will fill a gap in your current workflows. These add-on solutions are typically niche and siloed in your organisation. That is, they only do the specific thing you need them to do, and they do it very well. Whether they connect different teams together, improve the visibility of important information, or automate otherwise mundane and repetitive processes, these add-on solutions quickly become essential to your business. You simply cannot operate without them.
Two inefficient roads that small business tend to take with add-on solutions
Smaller businesses typically follow one of two roads when onboarding many different add-on solutions.
Road 1 – A complicated, integrated network
Integration is the key to removing manual work and letting your add-on products shine. But, due to the number of individual systems you require to run your business, integrating them all becomes incredibly complicated. Even if you can finesse your independent systems into one integrated network, you are looking at maintaining an incredibly complex web. There is no single source of truth for your organisation, no one place where all your data is stored and collected. While some or all individual systems are connected, you lack a reliable, fixed centre for your operations. You may think your accounting system is the default hub for all your data. However, it will likely lack the functionality and power to use all this information.
The complicated, integrated network approach is very risky. This road is like building a house of cards. When one system fails and needs replacing, it can compromise everything your business operations depend on. This approach fails to consider the future, the changing technology landscape, and what you might require if and when you grow.
Road 2 – A tangled, disconnected business
Spending time and money integrating the different systems in your business would have slowed your growth. You were focused on your customers and how your team could deliver your products and services effectively and quickly. But now, you are wasting more and more time duplicating data across your disconnected systems, wasting money on additional personnel to do these mundane processes. The focus on growth, efficiency, profitability, and the customer falls to the side as you struggle to complete all the required manual processes. Smaller, off-the-shelf accounting systems cannot deal with larger transaction volumes and cannot accept larger batch uploads from your satellite products. You need a system that can combine everything into one integrated network.
What needs to change?
While traditional accounting software may have been sufficient for small businesses with limited operations, it may not be able to keep up with the growing needs of larger businesses with complex workflows. Moreover, traditional accounting software may not be equipped to handle increasing regulatory and compliance requirements, which are increasingly complex and time-consuming. This can expose businesses to the risk of errors, fraud, fines, and legal action.
Once businesses start to employ more than 20 employees or have a turnover over approximately $8 million per annum, they tend to require more complicated accounting and financial functionality. This cannot be handled by an off-the-shelf accounting package – you need an ERP system.
But how does this transition to an ERP system affect your organisation's ecosystem of satellite products? Choose the right business management platform to facilitate this transition – one that can organise and integrate all your systems into a single source of truth.
Keep the best; upgrade the rest
With MYOB Advanced, you can keep your best-of-breed third-party products and upgrade the rest of your organisation – including the off-the-shelf accounting package that is stifling your growth.
MYOB Advanced supports integration and growth
MYOB Advanced is scalable, cloud-based enterprise resource planning (ERP) software localised by MYOB and powered by Acumatica. It provides organisations with a comprehensive set of tools for financial management, supply chain management, project management, Customer Relationship Management (CRM) and more. The software is designed to streamline business processes, integrate with various external systems, automate tasks and other business events, and provide real-time insights into key performance indicators (KPIs). It is suitable for large, complex organisations and can be customised to suit your specific requirements.
MYOB Advanced gathers data across your entire operation. Whether it is reduced administration time, greater inventory control, or real-time reporting, MYOB Advanced will improve efficiency in your business. Its integrated, modular design means it can become one advanced platform to manage your entire organisation.
The benefits of MYOB Advanced
As well as adding much-needed accounting, finance, and compliance functionality to your organisation, MYOB Advanced can support the integration of your existing satellite products. You do not need to abandon the operational processes that have led to your continued growth and success. MYOB Advanced can be configured to work alongside and incorporate your unique workflows and systems.
One of the major benefits of MYOB Advanced is its ability to automate mundane and repetitive processes across your organisation. The live data flowing between your integrated systems can trigger automations within MYOB Advanced. This eliminates the hassle of actioning important items across multiple systems; MYOB Advanced handles it automatically. The time and resources saved from reducing manual data duplication and other routine processes can be invested back into other areas of your organisation.
MYOB Advanced for specific industries
MYOB Advanced has a range of specific functionalities to support a range of industries.
MYOB Advanced Construction
MYOB Advanced Construction takes Projects and Job Costing to the next level, with specific functionality built in to assist the construction industry, along with a real-time flow of data from onsite to the office.
MYOB Advanced Wholesale and Distribution
MYOB Advanced Wholesale and Distribution can change the way you manage your wholesale and distribution organisation – and get ahead in an ultra-competitive industry.
Valuable MYOB Advanced integrations
MYOB Advanced has a REST-based Application Programming Interface (API) that allows flexible integration with other products. MYOB Advanced interacts with external solutions through standard web service protocols. These connections are secure, and your data is encrypted during transit. Every normal operation of the add-on application is available through the API; however, login-specific access can still be configured for additional security and to streamline workflows.
Examples of products you may be using that can be carried into MYOB Advanced include (but are not limited to):
simPRO or AroFlo – your job management and quoting solution integrated into MYOB Advanced Projects,
Shopify, Magento, Woo Commerce, or Big Commerce – no need to develop a new webstore, integrate your existing eCommerce platform with MYOB Advanced,
HubSpot or Salesforce – synchronise leads, contacts, accounts, opportunities and more across both systems,
ProCore – give field teams untethered access to your financial data,
ProEst – synchronise and share project and estimation data anywhere and at any time,
Microsoft Exchange – seamlessly synchronise contacts, tasks, and appointments across systems,
And more – contact our team if you have another system that needs to be integrated.
Other MYOB add-ons to improve efficiency
In addition to your existing products that can be integrated into MYOB Advanced, there is a vast array of specially developed connected services that you can add to your technology ecosystem. These systems are also specifically developed to meet individual industry or departmental requirements and can further improve efficiency in your organisation.
MYOB Advanced integrations allow you to build a truly custom system for your organisation by meeting your specific, additional requirements. Kilimanjaro Consulting recommends and supports integrations with the following connected services:
Choose the right partner to guide you
MYOB Advanced is a complex, sophisticated business management platform. It requires in-depth solution design and configuration to meet your requirements and to add the most value to your organisation. While an MYOB Advanced implementation may seem like a daunting project, you can engage an expert implementation partner to guide you through to a successful outcome.
Kilimanjaro Consulting is the largest, most experienced implementer of MYOB Advanced across Australia and New Zealand. Our experienced team takes a low-risk approach to implementing MYOB Advanced, ensuring success, and positioning your organisation for future growth. You may not have done this before, but we have.
As part of our structured MYOB Advanced implementation methodology, we believe that the successful journey is focused on identifying three distinct states:
Current State: Identifying and understanding current workflows within the organisation.
Future State: Exploring the benefits of the new software and the changes required to improve your efficiency.
Go-Live: The combination of the previous states, delivering MYOB Advanced Business to match your business requirements.
Are you ready to take the next steps?
As a small business, you know the struggle of managing different parts of your organisation with a wide range of software. While each system might offer specific functionality, managing data across all these different places can become challenging. Consider a business management solution like MYOB Advanced to combine your company data into a single source of truth and maintain your existing satellite products that have driven your success.
The Kilimanjaro Consulting team build long-lasting partnerships with our clients. We are farmers, not hunters, and look to nurture our clients over their lifetime. To start a conversation about MYOB Advanced and explore how it can improve efficiency in your organisation, email sales@kilimanjaro-consulting.com or call 1300 857 464 (AU) or 0080 436 774 (NZ).