Community Solutions
MYOB Exo was a perfect fit, with flexible reporting, an SQL database and local support.
Community Solutions is a unique not for profit (NFP) community service organisation that brings together the resources of communities, businesses, government and individuals to target issues of concern and opportunity in regional communities.
The organisation spent about three months looking at possible replacements before considering MYOB Exo. Exo seemed to have what we were looking for – flexible reporting, an SQL database and local support.
Exo also gave Community Solutions the ability to integrate payroll and accounting, something that was important given their large, decentralised workforce.
How do I achieve a successful implementation?
A successful implementation depends on managing 3 critical risks:
Software Risk
Implementer risk
Self-Inflicted Risk
You can reduce your risk by selecting the right implementation partner. Although there are many different partners to choose from, you need the one that will work with you every step of the way. Managing risk is an important part of an implementation, selecting a low-risk partner is critical to a lifetime of success with your Business Management system.
Kilimanjaro Consulting ticks all the boxes when it comes to choosing the right partner:
Kilimanjaro Consulting is the largest and most experienced implementer of MYOB's Enterprise-level business management, accounting, payroll, and workforce management solutions: MYOB Advanced and MYOB Exo. We are experienced, low-risk implementers, helping organisations improve efficiency in their businesses through the use of clever, innovative, and proven technology.
Free resources to help you further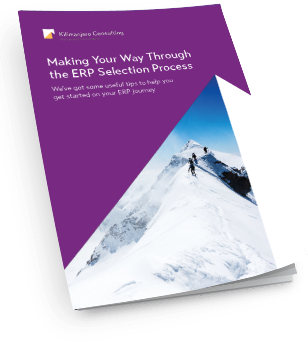 If you are ready to start your Business Management System journey, choose Kilimanjaro Consulting as your trusted implementation partner. If you don't know where to start, download our free E-Book that will take you through everything you need to consider and what to be wary of during this process.
Kilimanjaro Consulting is the largest implementer of MYOB's Business Management Software across Australia and New Zealand. We take the time to understand your business and only recommend the products that can meet your needs. To start a conversation about how MYOB Exo can improve efficiency in your organisation, email sales@kilimanjaro-consulting.com, or call 1300 857 464 (AU) or 0800 436 774 (NZ).